I had the opportunity to visit the Cleveland Museum of Art recently, and while we were there expressly for a specific exhibit (Painting the Modern Garden: Monet to Matisse), the permanent exhibits housed there are wonderful and deserving of repeated exploration in their own right.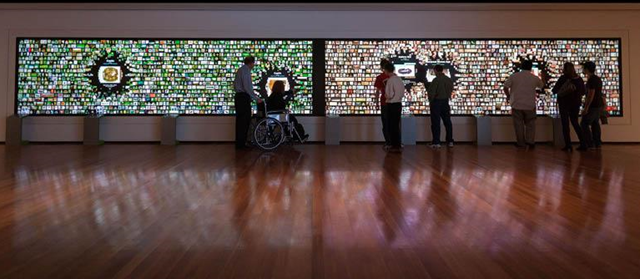 Of particular note was an entire section of the museum dedicated to direct user interaction and that was accomplished with a variety of technologies. The first, and most visually compelling, of these displays was the Collection Wall. The Collection Wall, is a 40-foot interactive, multi-touch, tile wall, which displays in real time all works of art from the permanent collection - between 4,200 and 4,500 artworks at any given time.
Well this got me thinking about the ways we can use technology, not just to display or catalogue art, but to produce, capture and experience it in new and imaginative ways. I found this video based on Kinect technology that I think does just that. Enjoy!