Immediately following a recent Windows 10 upgrade I started getting this message from Windows Explorer every few minutes: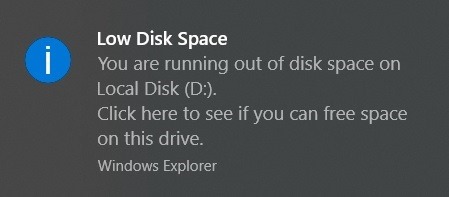 "Low Disk Space You are running out of disk space on Local Disk (D:). Click here to see if you can free space on this drive."
My first response was, I have a D drive?
It appeared that I did and it only had 49MB free of the available 500MB, however, I could see no content. At this point it started to make sense, what I was looking at was a recovery drive and it was not actually meant to be visible. Windows Explorer had been ignoring the partition right up until the upgrade where I imagine some some process decided to erroneously name the drive.
No big deal we can fix this by simply removing the drive letter, here is how (assuming your OEM drive is labeled D):
Hit the Windows key and type cmd, right click on the Command Prompt icon and click Run as administrator.
Click Yes on the User Account Control box to open the command window. Run the following commands. Change the drive letter accordingly based on the list "volume command", mine happens to be D.
diskpart
list volume
select volume D
remove letter=D
Finally, close the command prompt and restart your device.
The OEM drive should once again be invisible in Windows Explorer and you should no longer get those aggravating messages.