As the closing on my house gets closer and closer I am starting to think more and more about the various digital services that are available in the greater Columbus area.  I think FIOS would have been my first option (up to 30 Mbps downloads and 5 Mbps uploads), however, this service is not available in any part of Ohio.
I am fortunate, however, to no longer be under the tyrannical rule of Buckeye-Express, who have made some kind of pact with the City Toledo to ensure that no other cable company competes on a level playing field. The two main cable providers in the Columbus Ohio area include, Time Warner (TW) and Wow Cable, with AT&T U-verse filling the role of young upstart.

I cobbled together the following information based on the cable companies web sites. TW has the advantage in the estimated download speeds and have a better price point than WOW cable. I am not much of a premium channel guy so the free channel offerings are not drawing me in to the WOW service. AT&T has 2 free receivers in addition to the DVR box which more than makes up for the $15 difference in the price offered by Time Warner cable services.
Cable Provider
Internet Access
Phone Services
Cable Package
Intangibles!
WOW
Downstream - 6 Mbps
Upstream - 1 Mbps
$63.99/month
Unlimited Calling (US)
Caller ID
Call Waiting
3 Way
$37.00/month
200+ channels
Video On Demand
Starz Encore Movie Pack
1 x DVR box
$59.99/month



extras:

HD DVR - $11.99

?
Time Warner
Downstream - 15 Mbps
Upstream - 512 kbps
$54.90/month
Unlimited Calling (US)
Caller ID
Call Waiting
3 Way
$39.95/month
200+ channels
Video On Demand
1 x DVR box
HD included
$52.40/month


 

?
AT&T U-verse

Downstream - 10 Mbps
Upstream - 1.5 Mbps

$55/month

NOT AVAILABLE IN MY AREA ...YET!
200 channels
Video On Demand
1 x DVR box
2 x receivers
$59.99/month



extras:

HD Content - $10.00/month

Integrated call history, basically checking calls from your TV.

Include IP conferencing.

Web based call management includes  call rerouting and allows me to check voice mail online.
Info: As of 3/9/2008
So what intrigues me the most? AT&T U-verse! which by all accounts is powered by Microsoft Media Room. Hanselman mentioned this last year but they were not taking orders back then, they are now in full swing apparently. I am fascinated by the potential integration to my PC viewing pictures and\or music and videos, I am assuming through Media Center or some kind UPnP services.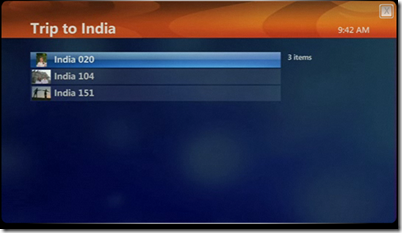 I need to ask more questions about the potential Xbox 360 as it seems to be able to act like another receiver, I am definitely jumping the gun here as I do not have an Xbox yet, but with the current rumors about an increase in 360 storage I am tempted!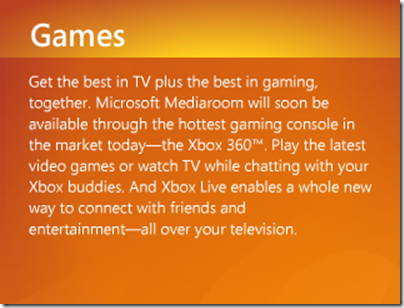 Of course the actual device software is designed to be a DVR interface with a dynamic MultiView (multiple picture-in-picture) capabilities that will allow you to have up to 16 Picture-in-Picture (PIP) ... I need to see that before I believe it.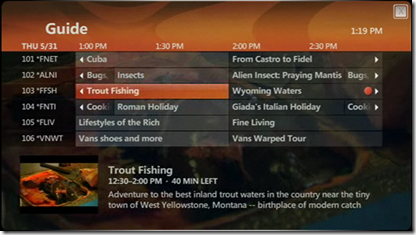 My wife is pushing toward the AT&T solution and simply waiting for the phone service to be available in the near future. I think the choice has been made for me ;)