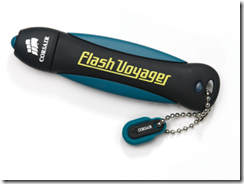 Corsair recently announced the release of a new 64GB flash drives. The new 64GB USB Flash Voyager has enough capacity for a library of HD movies. This is actually more space than my laptop or my gen 1 Zune. I am assuming that the next generation of Zune and iPod flash devices will match this much needed growth in capacity.
"In addition, Corsair 64GB USB Flash Voyager drives are bootable, which means users can actually store full versions of operating systems and applications in order to quickly "re-create" the necessary software environments to troubleshoot system problems."
Here is a full datasheet on the Corsairs Voyager line.