At work I spend a great deal of time reviewing hang dumps for a variety of our web platforms, I am usually trying to figure out exactly how this app got into a one in a million state that has slowed the app, caused a CPU spike or excessive memory consumption. Now that I am working on DasBlog Core in my spare time I have been forced to look at a couple of really bizarre scenarios related to ASP.NET Core architecture. I will blog about those scenarios soon but for now I just wanted to take a quick look at the difference between ASP.NET (System.Web) vs ASP.NET Core when it comes to hang dumps.
Taking a hang dump
Normally when taking a web hang dump we use task manager (or IIS) to identify a specific IIS worker process (w3wp) because our app is running inside this context. I would then use Task Manager to right click on the process and Create dump file. Fairly straightforward, but this is slightly different for ASP.NET Core and to show that difference I point you to following image where I am using KUDU on Azure to identify the processes running in the cloud (but the principle applies to Task Manager).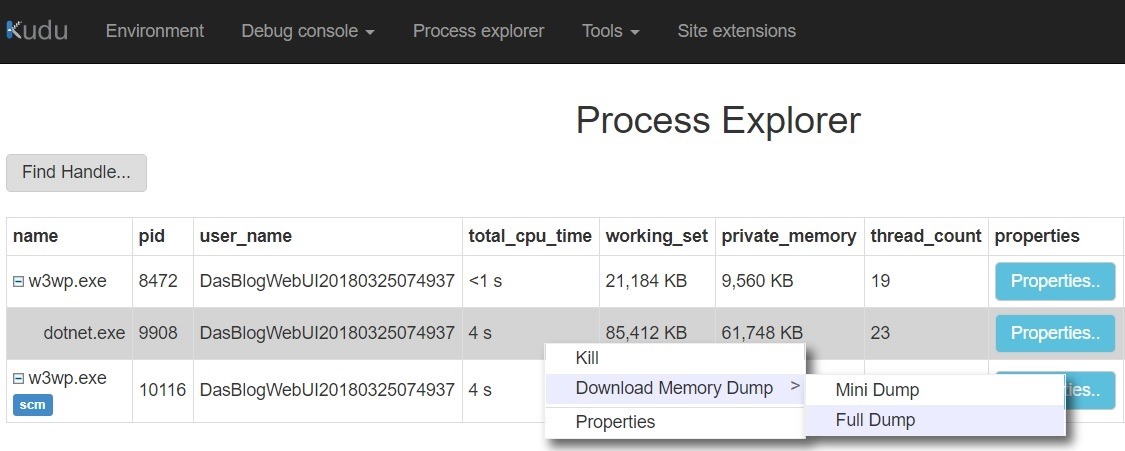 Notice that I now have an IIS worker process and a dotnet.exe and our code is evidently in the dotnet process (PID 9908), and this is the process from which I would need to take the hang dump. This is an important difference from classic ASP.NET web app.
ASP.NET Core Module (IIS)
A new module was developed for IIS, the ASP.NET Core Module, and it allows ASP.NET Core apps to run behind IIS in a reverse proxy configuration, this allows the venerable and versatile IIS to continue to provide world class security and configurability.
As noted the ASP.NET Core apps run in a process separate from the IIS worker process, I grabbed this diagram from Microsoft docs that helps illustrate the new architecture.

So let's consider all the steps as soon as it hits the web server:-
HTTP.sys driver routes the requests to IIS (usually via port 80 HTTP, 443 HTTPs)
The module forwards all request via HTTP to Kestrel on a different port (not 80 or 443 as they are in use)
Requests not forwarded via the module are rejected
The request is pushed into the ASP.NET Core middleware pipeline
The middleware pipeline manages the request and creates a HttpContext instance for your app (this is where routing does its magic)
This is not an insignificant change and with the conversion of DasBlog I ran into a couple issues that are rooted in this architectural difference and I will talk about them soon.