As I have mentioned previously I really like the Surface 3 it just works for me as an ultra portable PC/Tablet. I have not yet purchased a Surface Pen and I a being told by Surface users of every kind that the pen is a really important tool for interacting in tablet mode, and after a few demonstrations I am actually convinced that is indeed the case. For now I have been experimenting with TouchMe Gesture Studio, this delightful app enables you to create, edit, and export a customized gesture file for your touch enabled Windows device!
TouchMe Gesture Studio is actually two apps, the first part app is a relatively simple modern Windows app that enables you to assign specific gestures to a predefined list of Windows actions. The modern app has a really good selection of favorites and defaults and you should take a few moments to familiarize yourself with those first. Admittedly I have spent the last few days experimenting with some of the more obscure gestures like the "Five finger Tip-Tap Left", which can be best executed by placing all four finger tips of your right hand on the screen then tapping the screen with your right thumb.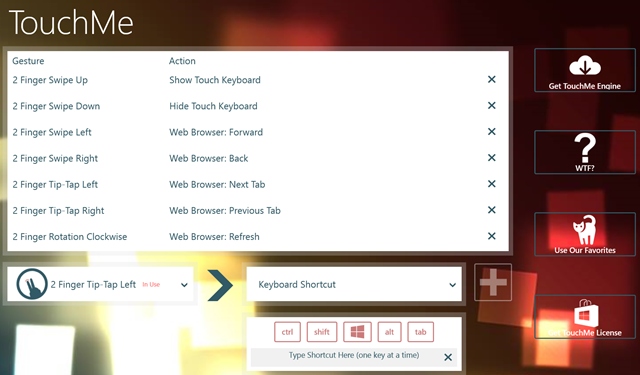 You can export a list of configured gestures with the Windows app, here is partial list of some of mine.
2 Finger Swipe Up -> Show Touch Keyboard
2 Finger Swipe Down -> Hide Touch Keyboard
3 Finger Pinch Inward -> Show Task Switcher
5 Finger Pinch Inward -> Show Start Screen
5 Finger Pinch Outward -> Show Desktop
3 Finger Rotation Clockwise -> Volume: Up
3 Finger Rotation Counter-Clockwise -> Volume: Down
4 Finger Rotation Clockwise -> Brightness: Up
4 Finger Rotation Counter-Clockwise -> Brightness: Down
5 Finger Tip-Tap Left -> Power: Lock Session
After you have correctly configured your gestures you will be ready to install the second app which you acquire by clicking the Get TouchMe Engine (in the top right corner), this will result in opening a web browser which prompts you to run an msi.  The second app acts more like a service and just sits in the background and listens for the gestures you have configured: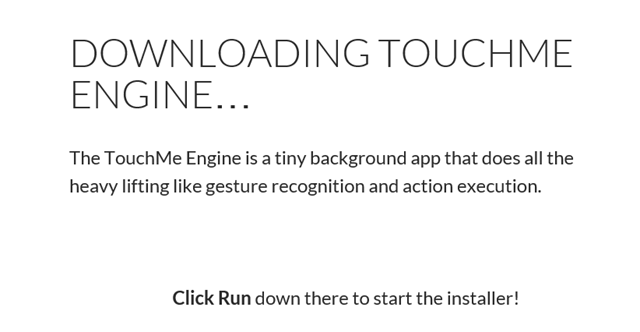 Here is a quick video I put together testing some of these gesture (in hindsight I regret configuring rotation gestures with 4 or more fingers, it just feels awkward):
Overall this is a really useful application and I would even say critical for folks who do not have a pen (like me). The truth is anyone with a multi-touch Windows tablet can configure just a few gestures that can greatly improve your touch related workflow. The TouchMe engine is free to use for 32 days, after that you can use 3 gestures for free or alternatively you can purchase the full license. The TouchMe app can be download here. I intend to pay for this app, I am really impressed with this developers  work, but also really hope Windows 10 gives us a more complete set of gestures analogous to the way power user takes advantage of the Windows key in keyboard heavy work scenarios.