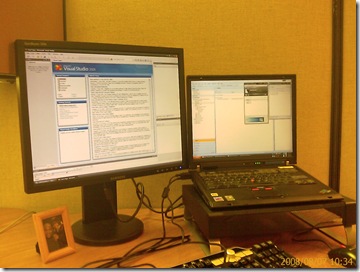 I have recently had issues with my AC Unit that forced me to work from home (WFH) for the duration the repairs. We have a fairly flexible policy for working from home, however, I try to limit the amount of time that I actually work from home because I am addicted to life with two monitors.
I use a T43 that automatically becomes my secondary monitor, and I use the Samsung 204b for my primary viewing pleasure (I actually like this monitor so much I purchased one for my wife). I usually position Visual Studio on my primary monitor and reserve the various communications (Live Messenger, Sametime, Outlook etc) for the secondary monitor. Throw in UltraMon to handle monitor management and you are in for a highly productive time.
Unfortunately the experience of working from home requires me to alter my work flow which is frustrating for at least the first hour. So I am advocating that everyone who wants serious productivity should petition their manager to support the 2 monitor life style at home and in the office ... good luck with that ;)
Excessive ... maybe. Productive ... absolutely!!