I have certainly critiqued the Windows PC hardware options over the last few years. So I am eager to see any semblance of changes that could markedly improve or enhance my personal work flow. For me tablets are a secondary device, although I know for some people it represents a post PC era. The lion share of my work is still completed on a laptop of some variation, the tablets I own provide a very useful function but as a developer and musician most of my work requires some variant of a full PC.
While trying to get Microsoft to acknowledge the bifurcation of the Windows 8 UI (between Desktop & Tablet), it is clear that hardware designs are starting to reflect those two distinct environments.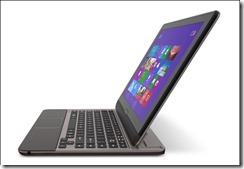 The main theme appears to be a touch capable laptop with with detachable keyboard. Clearly this is the approach coined and developed by the iPad and iOS, but Windows 8 provides a mature OS that fully compliments my musical and developer proclivities I have. With that said, I am a little uneasy about having two parts to my laptop, especially for hardware that introduce a keyboard that is not integrated by design.
The best design of 2012, in my humble opinion, can be found in the normally business centric Lenovo camp, in the person of IdeaPad YOGA. This new device is a hybrid of a ultrabook and a portable 13.3" multi-touch tablet. YOGA has a patented dual-hinge design engineered for the functions of a notebook, tablet, stand, and tent. Please see the carefully crafted marketing video below to help envision your wonderful future with the device

.