After arriving at Las Vegas airport I remember being really impressed by the ample places I could charge my laptop and even my USB devices for free. In recent memory it took quite a lot of skill and patient preparation to be in the right seat at the right time to get the only outlet near your gate. Now it seems everyone has a laptop notebook and the airports have responded accordingly.
Imagine my surprise as I was walking though the terminal to see the Charge Carte beckoning to me…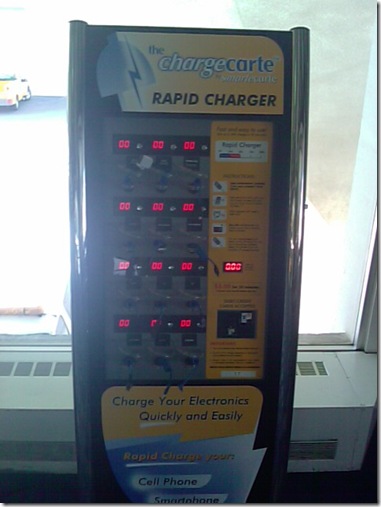 A singular device with almost every type of charging cable available to cater for the person who rushed out and forgot their charger. You now have the option to get a quick charge for the most popular devices (includes Motorola, Nokia, Samsung, LG, Kyocera, Blackberry, Palm, Siemens, Sony-Ericcson, Nextel, iPod and iPhone).
Sounds like a good idea … until you see the price Charge Carte is charging ;)