As the tech support for my immediate, and extended family I am expected to be prepared with answers when strange or unexpected behaviors are observed on personal computing devices. This is my lot and I fully embrace the challenge!
In an attempt to save time I am creating this post to assuage the panic that has already been induced within some of my dear friends who may or may not have seen a small Windows icon in the system tray (on the right). First let me say this system tray application was to be expected and, as the more curious among us have deduced, this is the harbinger of the new and improved Windows 10.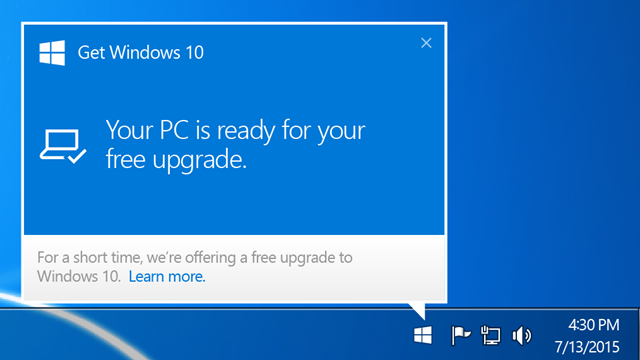 Windows 10 is the latest iteration of Microsoft's ubiquitous operating system and it is designed to streamline the user experience and bring more features and parity to the diversity of devices we have grown accustomed to owning. I have been involved with the Windows Insider Program for some months and while I am sincerely advising everyone to upgrade, please consider the following questions as you determine if Windows 10 is right for you.
What will Windows 10 cost you?
This is a free upgrade, and it will remain free for one full year, after that the assumed retail price will be $119.
When and where can I get the Windows 10 upgrade?
Upgrades will begin on July 29th. Again, you should have received a system tray icon allowing you to reserve your copy for download, but do not be surprised if your upgrade does not begin on the first day. The upgrade will be a 3GB download and directly installs just like a Windows update. I do assume that Windows 10 install media (DVDs, USB, etc.) will be available but I do not have details on that currently.
Who is eligible to upgrade to Windows 10?
Almost everyone with Windows 7 and Windows 8.1. If you are still on Windows Vista, and we are indeed friends, then I have clearly failed you.
I did not get a system tray icon to reserve my copy, should I be worried?
Nope. The rollout to the literally billions of devices is going to take some time, do not be surprised if the reservation notification for slightly older devices takes some time. If you don't see it, visit the Q&A page for more info.
What are the most important new features of Windows Next?
The most obvious ones are the following:
Cortana - Microsoft's personal digital assistant, comes to PC and tablet! Cortana learns your preferences to provide relevant recommendations, fast access to information, and important reminders. Interaction is natural and easy via talking or typing, with advanced features to control Cortana for more trustworthiness and transparency
Windows Hello -  Biometric authentication which can provide instant access to your Windows 10 devices. This system enables you to authenticate applications, enterprise content, and even certain online experiences without a password being stored on your device or in a network server at all.
Microsoft Edge - The all-new browser built to give you a better web experience—one that's made for easy sharing, reading, researching, and getting things done.
Continuum - On 2 in 1 devices, Windows 10 will move easily between keyboard/mouse and touch/tablet as it detects the transition and conveniently switches to the new mode.
I like Windows 7, do I have to upgrade now?
No. Windows 7 is considered a fine operating system you can keep it for as long as you like. The operating system (service pack 1) will continue to be fully supported by Microsoft for at least another 4 years.
What version of Windows 10 will I get upgraded to?
That depends on the version of Windows 7/8 you start with, here is a summary:
Windows 7 Starter - Upgrades to Windows 10 Home
Windows 7 Home Basic - Upgrades to Windows 10 Home
Windows 7 Home Premium - Upgrades to Windows 10 Home
Windows 7 Professional - Upgrades to Windows 10 Pro
Windows 7 Ultimate - Upgrades to Windows 10 Pro
Windows 8.1 - Upgrades to Windows 10 Home
Windows 8.1 with Bing - Upgrades to Windows 10 Home
Windows 8.1 Pro - Upgrades to Windows 10 Pro
What else is coming with Windows 10?
There are a lot of features with Windows 10, but it is not just for the PC and tablet market, there will be updates to the phone, Xbox, and HoloLens. It is also considered integral to the Internet of Things (IoT) strategy.