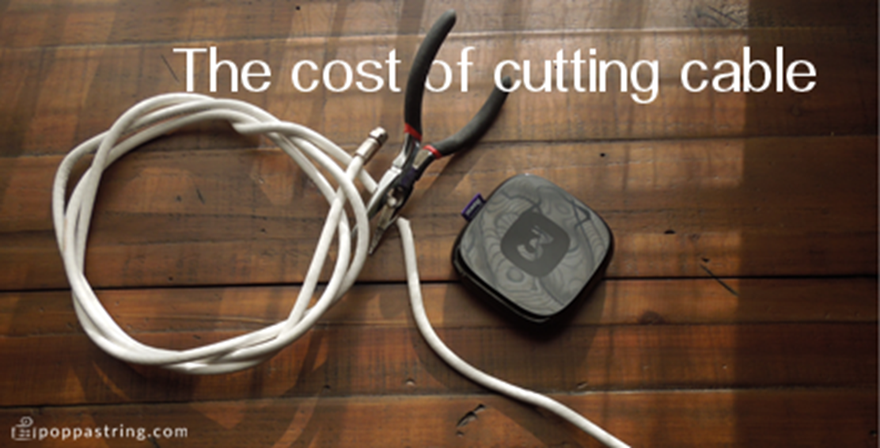 Cable providers have dominated my living room entertainment for many years, but since the arrival of Netflix (and other streaming entertainment) I have had plenty of reasons to question both the cables packages and its associated costs. The truth is I actually watch very few of the channels that I am paying for and so the value add of cable bundles has always skewed against me. So in 2015 I am electing to sever my ties to cable TV!
Currently my cable bills is in excess of $150 and only about $60 of that is dedicated to my internet service which I, of course, will keep. So that leaves me around $90/month or $1080/year for my TV budget, and that by any standard is an awful lot of money.
I already have an Xbox One and this device serves as the center of my living room universe. Additionally I own several Blu-ray players that have some streaming capabilities, however, I find the user experience positively unbearable and thus rarely use them. The following represent the costs I will assume in order to match my cable\TV viewing habits.
Cost of hardware
For the hardware listed below this is obviously a one time fixed cost and for the sake of this exercise I am making the assumption that I will make no significant changes or upgrades for at least 2 years. This will allow me to calculate a monthly/yearly cost for all my purchases. I may keep some or all of this hardware longer in which case the value proposition will be much improved.
| | | |
| --- | --- | --- |
| Hardware | Cost per month | Cost per year |
| 2 x Roku 3 | $6.67 | $80 |
| 3 x OTA HD Antenna | $3.13 | $37.50 |
Roku
My primary replacement for cable in rooms around the house (not the living room) will be the Roku 3. It is a hockey puck sized Wi-Fi enabled device that has a straightforward, snappy and responsive user interface. This little device features Ethernet and USB ports and comfortably handles 1080p output, the remote also provides an interesting option allowing you to plug in headphones, probably for silent night time viewing. So far I love it!
The main competition for Roku is Apple TV and Amazon Fire TV and by all accounts both have exceptional user experiences, however, the Roku appears to have a distinct advantage with its depth and breadth of programming options, you can purchase and rent movies and shows from a much broader range of services.
Cost of OTA HD Antenna
I selected the Flat digital antenna from RCA as my choice for capturing over the air (OTA) local HD TV broadcasts. The main thing to look for in OTA antenna is simply the range and then you may need to confirm how far you are from your local broadcasters. Thankfully my RCA antenna has a 40 mile range and all the local channels broadcast within that radius, and while the FCC has DTV receptions maps those calculations are based on an outdoor antenna. So please do not leave this to simple rabbit ear antennas, I tested it, and for me there was significant difference in the number of channels and the quality of those channels.
Cost of streaming services
Most of my TV watching habits are covered by Hulu and Netflix, and I currently pay for them both, so this is really not an additional cost (and will not be included in the conclusion). Hulu covers the lion share of the current TV watching and Netflix picks up the slack for older TV shows and a few movies thrown in the mix.
| | | |
| --- | --- | --- |
| Video Streaming Services | Cost per month | Cost per year |
| Netflix | $12 | $144 |
| Hulu | $8 | $96 |
| HBO Go | ??? | ??? |
HBO Go is apparently going to be offered direct to consumers (sans cable) for the first time and given my fascination with Game of Thrones (GoT) I think there is a strong chance I will be subscribing. I am guessing $15 a month but I have no interest in HBO outside of the time that the GoT season airs.
Cost of additional TV shows
The following represent the shows that we have the potential to lose when dropping cable and we intend to pick them up via Xbox Video or some other service (Amazon, iTunes, etc.).
| | | |
| --- | --- | --- |
| TV Season Rental | Cost per month | Cost per year |
| The Walking Dead | $3.50 | $41.99 |
| Being Mary Jane | $2 | $23.99 |
| Bizarre Foods America | $1.67 | $19.99 |
| Nurse Jackie | $2 | $23.99 |
| The Little Couple | $2.08 | $24.99 |
| NBA League Pass* | $12.42 | $149 |
| River Monsters | $1.25 | $14.99 |
Cost of Convenience
One of the big omissions is the lack of a DVR, this is a real convenience during general TV watching and the feature I know I will miss the most. However, when using streaming services or purchased programming the DVR functions are there by definition, so this is just about casual TV watching. Xbox did release a solution for OTA DVR in the European market but it looks like there are many hoops to jump through before it becomes available in the US.
So what will I save?
I go from $1080/year ($90/month) to $416.44/year ($34.70), a saving of over 60%! Even more when you consider the onetime hardware costs.
UPDATE : Todays announcement from Sling TV is pretty significant for cable cutters everywhere, Xbox One subscribers get a free month to check the service out which apparently includes (ESPN, TNT, TBS, Food Network, HGTV, Travel Channel, CNN and ABC).