I am taking a much more active look at the mobile\smart phone scene. I have been very happy with the quality of service provided by Alltel, however, I purchased the cheapest phone  I could at the time (text is painful, no camera, no IM, no blue tooth) and so I am way behind the technology curve. Our contract is up soon and we are eager to get a much better phone. I am eyeing the HTC Touch which seems to provide all the cool things I need with the exception of WiFi, apparently they dropped WiFi when they converted it from a GSM to CDMA model ;(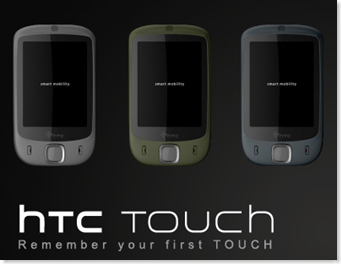 As this is a Windows Mobile Device I should be able to upgrade to the newest version (6.1) which was announced officially today. The main update that I am interested in seeing is the full Silverlight support which I saw a brief demo of during this years Mix.
According to the press release Microsoft has updated IE Mobile to support Adobe's Flash and H.264 streaming, which will make it possible for Windows Mobile devices to act more like regular browsers (iPhone nailed this concept out the gates). WM 6.1 will also make it easier to view full screen Web pages.