I moved into my new home this week and as I mentioned before I was planning on trying out AT&T U-verse. I must admit that the whole experience from the installation to the current usage has been a pleasure.
Cable: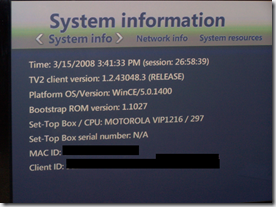 I found out sometime last week that AT&T is currently using Mediaroom from Microsoft. The only indication that this is indeed the case is by checking the System Information and strangely enough the OS is recorded as WinCE (5.0.1400). I did not expect that, but I suspect that a partial OS is all that is necessary for the Motorola VIP 1200 series hardware (160 GB standard).
The pipe to our house currently only supports 1 HD line and 3 SD lines, this is probably the only disappointing thing about the system. This means if I decide to watch ESPN HD on a system upstairs while my wife is watch HGTV HD downstairs I will be prompted to switch HD control to the active box. This is even more annoying if I am trying to record HD channels as I cannot watch another HD channel. I can, however, watch any of the 3 available SD channels.
Clearly this a management challenge that I do not want to be hassled with, but apparently later this year we will be upgraded to 2 HD channels and then subsequently 4 HD channel capacity!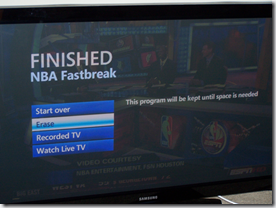 The actual performance of the of the U-verse cable box is exceptional, I have a couple of decent points of reference that include Comcast and Buckeye-express and each would regularly hang for several seconds quite randomly. The U-verse response is as snappy as I have ever seen and I am already getting use to the ne remote control after about 2 days of use.
The on screen layout follows the same fundamental pattern of most cable boxes, there are however a couple of nice perks sitting there waiting to be discovered. Firstly there is a great page preview system that takes advantage of the inherent Picture-In-Picture (PIP) technology of Mediaroom. Now I can channel surf to my hearts content without actually bothering my wife. In fact, when executing most program controls the cable picture is still viewable in the background (see picture on the left).
The two additional HD receivers will, sometime later this year, be able to access your main DVR and play recorded programs. This is a real bonus as I do about half of my TV watching from my bedroom. It has always been a hassle to be forced back down stairs to watch pre-recorded shows. This ability to have complete access from more and more rooms is the flexibility I crave.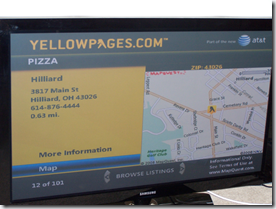 We are currently still in the process of unpacking in our new home, so my wife suggested that we get pizza. I was getting ready to grab my computer to check for a local Pizza joint when I suddenly realized that I could check local services from the cable box. I had already punched in my zip code and so within a couple of intuitive clicks I had a list of Pizza places ordered by distance, with a number, and a small map. That was easy and cool, and once again my wife loved it.
The U-bar is another simple but effective application that allows you to check stock lists that you select along with things like weather, sports and local traffic. Again completely configurable by you at your AT&T home page.
The coolest feature IMHO is the ability to remotely select and record programs. I have been caught out of town a couple of times, or simply been running late and really wanted the opportunity to record a program I was going to miss. This remote service has nailed it.

Internet Service:
I selected the highest service available at 10 down\1.5 up (Mbps), this apparently will go up to 15+Mbps later this year. AT&T provide a modem for you which is  normal for cable companies. What is not normal is that the modem serves as both a wireless and wired router. This does of course mean giving up a certain level of control over your network and I have grown used to that idea as long as it just works. I started asking the installer a load of questions about the setup but my enthusiasm must have given me away, and he politely proposed that I should not make too many changes.
As I mentioned all U-Verse packages provide you with 1 HD DVR and 2 HD receivers (you can also rent additional boxes), the thing that is really cool about that is they are actually on your network (connected via coax), and each box has its own IP address (see image on the right). Each box in turn has an RJ-45 connection in the back and as such serves as additional wired access points to your network and out to the Internet! This has thankfully allowed me to cancel my plan to have network drops littered throughout my home which would have been both costly and a pain.
Conclusion:
I am definitely an early adopter of AT&T U-verse in the Central Ohio area but this system is a thing of beauty and the near future will see all that potential fulfilled. Things I still want to test for or see in the future include:
Cable box should be able to access UPnP resources on my network.
Access to Media Center on my PC, which seems like a logical step.
Access cable programming from my Xbox (which I do not have yet).
Direct access to my Zune content.