I was once, in my youth, a lover of outdoor activities. My favorite was mountain biking. These guys have set the bar a little too high even for the most daring among us.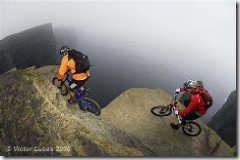 I was never this good ... not even close. These are some wonderful pictures that I thought I would share. No idea who these guys are but I hope they made it home!
There is a web site dedicated to this crazy trail blazing bikers. Check it out!
"In order to attain the impossible, one must attempt the absurd." - Miguel de Cervantes