I am currently working on a small tool designed to access the Common RSS list found within the Windows OS. It helps me because I have grown accustomed to using Internet Explorer for my RSS fix, however, there is currently no system wide desktop alert that will let me know if there any new feeds (that I know of).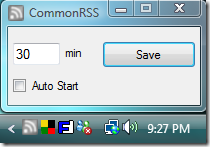 This simple application is designed to check if any new feeds are available, give the user an indication within the system tray and then allow the user to launch IE, the user can the review the new feeds from the Favorites Center!

While there are a plethora of great RSS tools out there (better than this one), it has been a couple of years since I have done any continuous Forms based Windows programming so I wanted to throw my hat into the ring and shake the rust off. This will also give me the chance to have a closer look at Microsoft Visual C# Express 2008.
p.s. This tool is only useful in XP and below. There are sidebar gadgets that do the same thing for Vista!